Mondays roll around so quickly and here we are saying "Hello Monday!" again. I like jotting down what we've done each week and this week I reflected that each week does have its blessings. Some weeks we have to look harder for them that's for sure!
We had a good week last week. How about you?
Hello spraying wheat! I got to do some farm errand running and go pick up spray for my farmer. We're wondering what our wheat is going to think of the cold temperatures we had last week and the cold temperatures they are forecasting for this week. Down into the 30's a couple of nights both weeks. Renae and Tucker wanted to play outside on Tuesday, but they soon gave it up because it was just chilly.
Hello making banana bread and posting the recipe here on our blog!
Hello pretty sourdough rolled out to make blueberry rolls!
Hello to blueberry rolls residing on the counter to raise! So yummy!
Hello my favorite mugs that make me smile and make me happy! My facebook group of Lilla Rose consultant's were sharing photos of their favorite mugs this week and I snapped this picture!
Hello bottom braces! Now we have braces on the top and bottom. I've never experienced braces and I feel kind of sorry for my girl. It doesn't look like all that much fun. She does great at it! We have a bracket that came off Friday morning, so we need to check in at the orthodontist's this morning.
Hello pretty clear glass plates! I had a few like this and really wanted more. I was excited to find some at Target last week. Yay! There was even a serving platter, which was something I'd been needing.
We hauled some more hay last week. We backed up pictures. We had a father-daughter farm date. Our little man, who's not so little anymore, and who loves McDonald's, got to go there twice. He also got to spend the weekend with a friend and go to Legoland for the friend's birthday! I had an enjoyable afternoon chatting with an aunt of mine. I won a giveaway! Hip-hooray! I won a pineapple slicer. My daughter was excited about it too. We just recently had a fresh pineapple that we had cut hacked into pieces to eat. I bought a 31 bag on ebay that I'm pretty excited about. I'm loving the bags I have from 31.
Lilla Rose giveaway going on over here! Today is the last day to enter.
Happy week!
Linking up: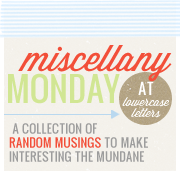 *some links are my affiliates
Copyright secured by Digiprove © 2013