Today we're opening the cover of in want + plenty by Meredith McDaniel. I received this copy from Revell to review.

I was delighted to have it arrive. Hope*writers is well represented in this book. 🙂
The foreword in this book is by Emily P. Freeman and Meredith McDaniel is a fellow hope*writer!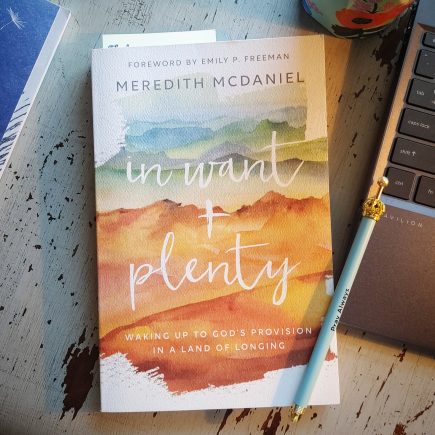 This book is therapy and deep thought and wrestling with our pain and brokenness in all the best ways. Meredith weaves together stories and thoughtful words to help us name our patterns, notice our needs, and meet Jesus in the middle of it. She asks questions, encourages tears, and does it with gentle tenderness.


Meredith uses the story of Moses and the Israelites and the provision of manna as a framework for the encouragement she shares. "It's all manna," she writes. "God providing His Vision so we can see again and realize our true identity." Amen and hallelujah!


I love this quote Meredith used at the beginning of Chapter 3.
"Let us come alive to the splendor that is all around us, and see the beauty in ordinary things." ~ Thomas Merton
Each chapter has a title and then a statement below it. I love the way they are paired.

A few examples:
Deep Groans
I am made for more

Mighty Hand
I am seen

Bread + Water
I am filled

One physical favorite feature of mine in this book are the highlighted words and phrases scattered throughout the pages. The highlighted words are printed in a font that looks like penciled handwriting and I think it offers a lovely visual impact.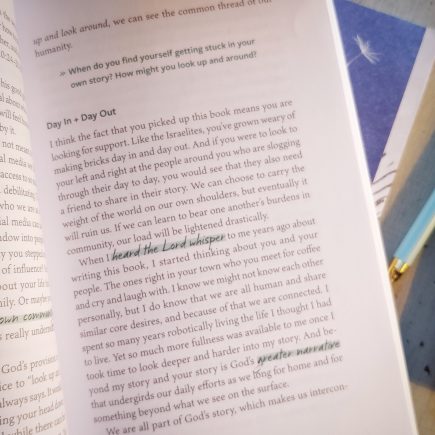 What have you been opening the cover to read this week?
Copyright secured by Digiprove © 2020