Hello to a Sunday evening campfire from a whole week ago! It was a beautiful spring evening with no wind at all. We enjoyed being outside and relaxing and snacking.
Hello to chopping and drinking and marshmallows!
Hello to homemade coin collections and having fun sorting through pennies and looking at the dates on each and searching for particular years!
Hello to corn planting! Hello to still having cool weather and spring still letting winter edges hang around.
Hello to a great place to nap!
Hello to new placemats that I'm excited about! Hello to celebrating the end of our schoolyear!
Hello to surprise anniversary get-aways and spending time with my man!
Hello to my husband's brother and family coming to surprise Mom for her birthday and Mother's Day! Hello to getting to see our little niece! Lots of fun to get to see both our baby nieces together. Hello to a crazy busy week filled with surprises. Rather interesting to try to juggle plans and what you can and can't say, so you don't spoil the surprise! 🙂 Hello to R&T spending an afternoon with friends! Hello to cleaning out vehicles and cleaning our basement more thoroughly than had happened for awhile! Yay! Hello to mowing and trimming! Hello to driving home from cleaning in a monsoon downpour. Hello to birthdays to celebrate at Bible study. Hello to burning our brushpile. Hello to butterhorns and roast beef! Hello to being offline and to being away for a couple of days and then coming home to spend time with family.
Did your week fly by last week?
Linking up: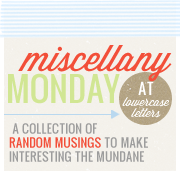 Copyright secured by Digiprove © 2013