Hello to the end of October! Where has it gone?
Hello pretty pumpkin and hello to happenings from last week!
Hello to having willing helpers to roll out butterhorns for me! They should be happy to, because they love, love, love to eat butterhorns!
Yummy-yum!
 Hello to a week of parties! We have friends who will soon be leaving to volunteer for a year, at The Springs of Hope Ranch. We are excited for them, but we will miss them a lot! Our friends have a daughter who our daughter is good friends with, and Renae attended a We Will Miss You Party for her this week. Saturday morning, I attended a ladies' breakfast party for my friend. This package went along for my friend.
Hello to attending a surprise birthday tea party for another friend earlier in the week. Her ten-year old daughter came up with the idea and with her grandmother's help, they pulled it off!
Hello to a gift in a jar! My mother told me about being invited to a birthday party and she was supposed to bring a gift in a jar! I thought it was a fun idea, so I borrowed it for the birthday tea party!
Hello to making ice cream cookies! My son loves to make them and even more to eat them!
Hello to winning another giveaway from Cheerios and Lattes! It was nice to have chocolate shipped to my door! I will say that I like regular Kit-Kats better, but hey, they were free!
Hello fun picture that I snapped a couple of weeks ago!
Hello to you and may you have a blessed week!
Linking up over at Lisa's
and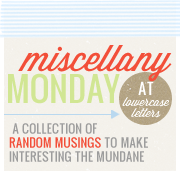 Copyright secured by Digiprove © 2012