We've been making apple recipes, since we had lots of apples from our neighbors. Makes sense doesn't it? Well, I also had some peaches that needed used. They were rather of a disappointment as peaches go. The flavor was good, but a LOT of them had a bad texture. That texture that my mother-in-law refers to as pithy. Pithy peaches are very sad. Spongy and a disgrace to all peaches.
That's the kind of peaches we're working with here. They weren't that fun to eat fresh. But I didn't want to just throw them out and some of them were fairly nice. I decided to try using my apple crisp recipe, but substituting the apples for peaches, all the time hoping the peaches would be much better baked than they were fresh. It turned out fabulously! Happy me. My husband, my brother, and I all thought it was better than the apple. The texture of the peaches was a nonissue being baked into the dessert. I won't be quite as leery of peaches now, knowing I can bake them if they aren't so great fresh.
I'm somewhat particular about the peaches I buy, because you just never know! I decided to take a chance on the peaches we've just had and they weren't that great. I knew there was a good chance for it to be that way, because they didn't give a name for what kind they were and simply described them as yellow flesh peaches. The best peaches we usually get are from Colorado. Generally, if they are advertised as Colorado peaches, they are yummy! My mother would buy Red Haven peaches when I was a kid and they were delicious! I have been able to buy Red Havens a few times since I've lived in Kansas.
This is my apple crisp or peach crisp recipe, depending on what kind of fruit you have around to use.
Ingredients
1/2 cup water
1 cup sugar
1 T. flour
1 tsp. cinnamon

Blend sugar, flour, and cinnamon together.

Add water and stir.

Pour this mixture over 5 cups sliced apples or peaches in a 9×13 baking dish.

Then stir together:
3/4 cup oatmeal
3/4 cup flour
3/4 cup brown sugar
1/2 tsp. salt
1/4 tsp. soda
1/4 tsp. baking powder
1/2 cup nuts, optional (I very rarely add the nuts)
1/3 cup melted butter

Spread this mixture evenly over fruit.
Instructions
Bake at 375 degrees for 45 minutes.
https://adelightfulglow.com/apple-crisp-turned-peach/
This is very yummy, served warm, with vanilla ice cream or milk. My husband likes his desserts like this, in a bowl, swimming with milk. Pretty, but I'd much rather have my milk in a glass. 😉
Linking up…..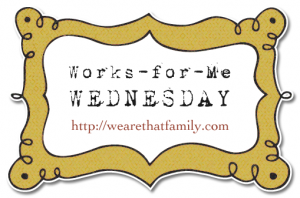 Copyright secured by Digiprove © 2012